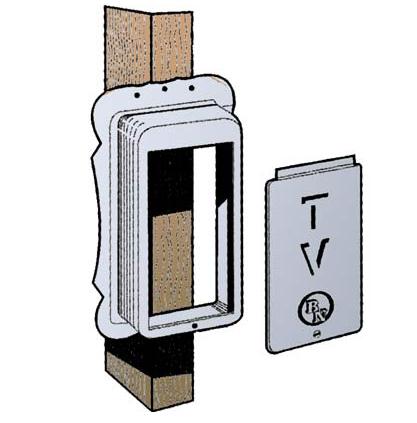 Benner-Nawman Single Family Residence Service Box - BN900TV
Sold out
Original price
$6.06
-
Original price
$6.06
Minimum: 10 Order Increment: 1
BN900 Low Voltage Service Box
3 3/4″ wide x 7″ high x 2″ deep
"TV" embossed lid
Cold draw galvanized sheet metal construction with a removable lid. This enclosure has an open back that simplifies mounting and connections. The service box is nailed or screwed to a framing stud, flush with the mounting surface prior to the application of stucco or siding. The cover is secured with a slotted screw. It can be mounted in several configurations:
Mount the box 3 feet above the final grade for use as a demarcation point for communication or CATV.

It can also be mounted high on the wall below the roof line for providing an access point for a roof mounted satellite TV dish.

The box can be mounted just above the foundation where a ground wire attachment point comes out of the foundation. This allows access to the grounding connection.
The products function is to reduce or eliminate exposed wiring on the outside of the building. Using this products allows for the wiring to be concealed. This product is specifically designed as a demarcation point for telephone or cable television. It is available with the following embossed lids:
This product is specifically designed as a demarcation point for telephone or cable television.  It is available with the following embossed lids:
The following conduit knockouts are provided on the bottom: one 3/8" and one combination 3/4" to 1". These service boxes are manufactured from cold drawn galvanized steel (24 gauge) suitable for painting. This product is U.L. Listed
Box, Pre-Wire, 7"X3-3/4"X2", Captive Lid Screws, Metal