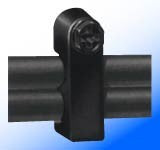 ITW SI-8 Masonry Screw-In Clips, Dual RG6 or RG59 100/Box - SI8
Original price
$7.50
-
Original price
$7.50
Minimum: 4 Order Increment: 1
For fastening all RG59 and RG-6 series coax cables to wood other "soft" materials, or in masonry with pre-drilled hole, route wires / fiber optics along concrete, brick, mortar, stucco, and block with a predrilled hole, and wood without anchors.
Integral strain relief grips to hold clips on wire - no need to hold clip while installing it.
Won't crush fiber optic cables. Match the O.D. of the cable to the diameters listed below to select the right clip for your applications.
Small and aesthetically pleasing and won't interfere with décor.
Weather-proof, ultraviolet (UV) stabilized material protects against deterioration.
Insulated to protect against shorts during installation / removal.
Screw breaks free from clip when tightened - eliminates twisting / binding of cable upon installation.
Black color blends in with substrate material - less obvious.
Clip, Cable, RG59, 6 Quad, Black, Screw In