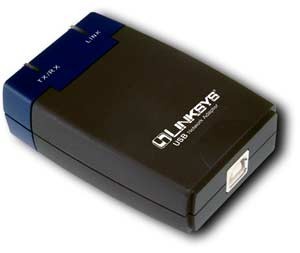 Linksys 10 BaseT USB Ethernet Network Adapter - USB10T
Original price
$3.00
-
Original price
$3.00
Minimum: 25 Order Increment: 25
One B-type (female) USB port for a standard USB cable
One RJ-45 10BaseT port for a straight-through category 3 or 5 cable
Fast 8Mbps data through put with 6Mbps burst transfer
Easy-to-read link and activity LED indicators
No external power supply needed
Now you can connect to any 10Mbps or 10Mbps/100Mbps hub without having to install any internal cards or hardware. The USB Network Adapter from Linksys allows you to connect to a network instantly from a USB-enabled PC, notebook PC, or even a USB hub. The Plug-and-Play compatible device attaches to any Windows 98 or Windows 2000 Universal Serial Bus-enabled PC or hub via a USB Type B receptacle. Connect a standard category 5 RJ-45 network cable in the other end, install the included network software drivers, and go. You'll be networked in no time.
The USB Network Adapter is bus-powered, it draws power from the host PC and requires no external power cords. The low 500mA maximum power consumption rate is complimented by an energy-saving auto-sleep function. Compatibility with Windows 98 and Windows 2000 makes it easy for almost anyone with a USB-ready PC or notebook to connect to a 10Mbps or 10/100 network. Use it in conjunction with a USB 4-Port Hub, (Model: USBHUB04) and you can operate up to four USB devices simultaneously. The USB Network Adapter features an 8Mbps maximum throughput, easy-to-read LEDs, compact design, a one year limited warranty, and free world-class technical support  all for a low price that's hard to beat.
Adapter, Network, USB, 10 Base-T, For Windows 98, 2000 and ME