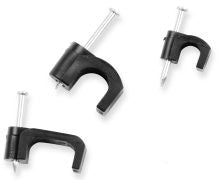 Monarch Cable Clip 100/Box - 1910
Sold out
Original price
$1.65
-
Original price
$1.65
Minimum: 20 Order Increment: 1
Fully insulated plastic ground wire clips provide safe and easy installation of cable while helping to prevent cable damage.
Injection molded from high impact plastic and UV stabilized to maintain durability at high and low temperatures.
Nail-in clips are equipped with heat treated, yellow chromate hardened nails.
Nails meet or exceed 300 hours of salt spray testing with no indication of corrosion.
Clips provide maximum longevity in outdoor applications.
Clip, Cable, For 14AWG, Ground Wire, W/Nail, Plastic, Black