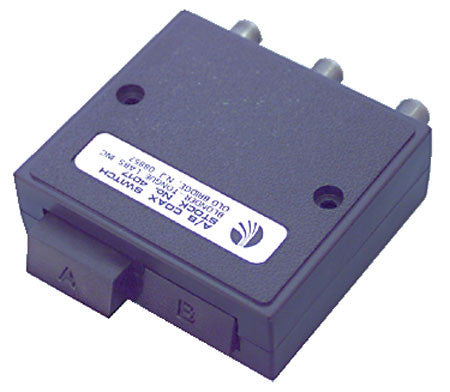 Pico Macom High Isolation A/B Front Push-Button Switch - AB-4
Original price
$2.50
-
Original price
$2.50
Minimum: 15 Order Increment: 1
The AB-4 is a push-button type coaxial selector switch, suitable for back-of-set or similar flat surface mounting. This unit offers high isolation, great return loss characteristics, and minimum loss over the entire CATV spectrum, including both the VHF and UHF bands.

The AB-4 features an internal secondary shield and a molded plastic outer cover, providing excellent RF shielding. This durable push-button type switch ensures reliable and contact closure.
The AB-4 is supplied with male "F" connectors and necessary mounting hardware.
Specifications:
Frequency range: 5~900MHz
Insertion loss: 0.2dB (5~250MHz), 0.5dB (250~900MHz)
Isolation: 85dB (5~250MHz), 65dB (250~900MHz)
Connectors: "F" type, female
Switch, A/B, Front Push Button