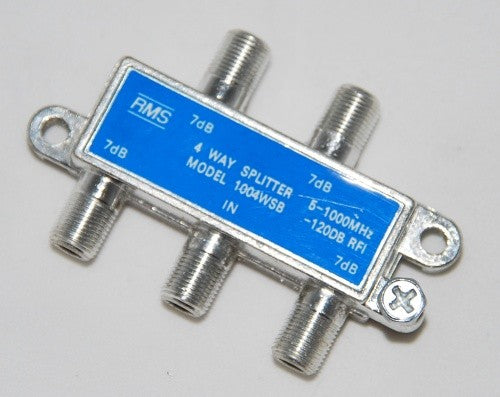 RMS 4 Way In-Line Splitter - 1004-WSB
Original price
$1.65
-
Original price
$1.65
Minimum: 20 Order Increment: 1
The RMS 1GHz indoor 4-Way in-line splitters are ideal for drop box or applications where space is limited.
The 4-Way have 7/8" port spacing.
Bandwidth 5MHz to 1GHz
RFI Shielding >-120dB
Micro-strip designed PCB for consistency of specifications and superior total bandwidth characteristics.
Premium ferrites, resistors an d capacitors.
Laminated ID label that will not fade.
Zinc housing that is chromated and plated for maximum corrosion resistance.
Precision machined "F" port threads.
Each unit is individually packaged with mounting screws.
100% quality control at our factory.
Dual flush mounting tabs for easy installation.
Integrated heavy duty grounding screw.
Modified 360 degree contacts that offer excellent contact between coax and F61 also has an excellent.
Wiping action.
Concave solder backplate design assures 100% sealing of backplate to the housing and prevents pinholes.
Excellent insertion loss, isolation (port/port) & return loss (input/output).
CE Approved
Splitter, 4Way, 1GHz, Horizontal, -120dB, Solder Back