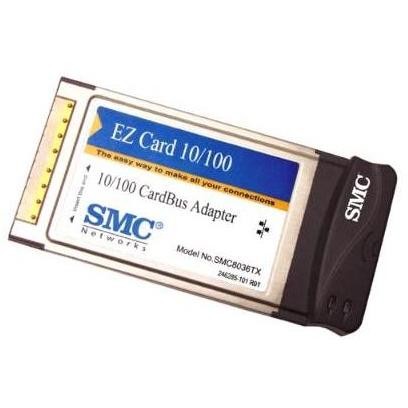 SMC 10/100BASE-TX Fast Ethernet Cardbus Network Interface Adapter - SMC8036TX
Original price
$0.99
-
Original price
$0.99
Minimum: 30 Order Increment: 1
These 10/100 Mbps Fast Ethernet adapters are ideal for home office or small business users who need high performance LAN connectivity.  They feature auto-sensing capabilities that automatically determine the speed of the network for an instant, problem-free installation. The adapters provide mobile users with performance previously available only on the desktop, and enable instant access to network resources.
A key feature of these new products is the fixed-port (dongle-less) construction, which eliminates concerns about lost or fragile connectors.
The SMC8036TX is designed for CardBus-compatible notebook computers and provides high-speed 32-bit PCI bus performance.  The SMC8041TX is for 16-bit performance or legacy 16- bit compatible notebooks. Both provide auto- negotiation for 10/100 Mbps operation with full-duplex speeds of up to 200Mbps.
Card, NIC, PCMCIA, 10/100TX, 32 Bit