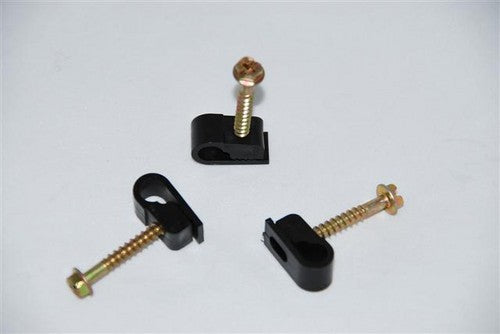 Telecrafter Black Single Series 6 Quad & Tri-Shield 100/Bag - Q7BK
Original price
$7.50
-
Original price
$7.50
Minimum: 4 Order Increment: 1
The superior design of the Flex Clips avoids stress on the cable and stress on the clip. Therefore, the integrity of the signal is unimpeded and the life of the clip is virtually unmatched.
Manufactured from a pliable, yet immensely durable polyethylene -- the same type of material as cable jackets -- Flex Clips wrap around the cable without exerting pressure on the coax. Adjustable "teeth" allow the clips to expand, if needed. Each clip can also accommodate an additional ground wire or messenger wire.
The screws eliminate the chance of accidental damage from tools such as hammers, and are pre-inserted into the housings to make installations quicker and easier.
Independent test results confirm that long-term exposure to the elements, including ultraviolet light, does not affect the holding power of the Flex Clips.
The flexible strong material, the unique stress-free design, as well as the durability and versatility of the screw all combine to make the Flex Clip the very best manual clip for longest lasting, superior drop installations
Single Series 6 Quad & Tri-Shield - 7/8" surface penetration
Q7BK Black
Clip, RG6Q, Single, Screw, Depth 7/8", Flex, Black